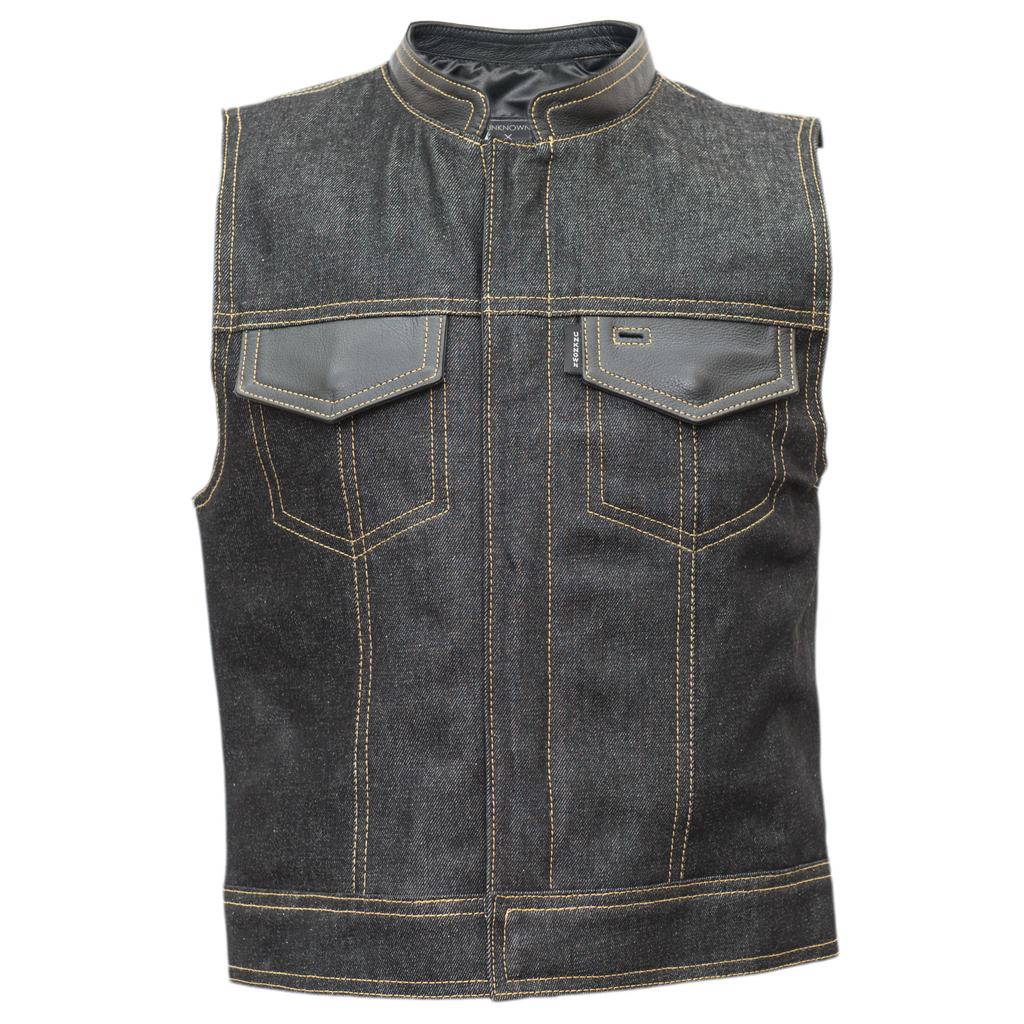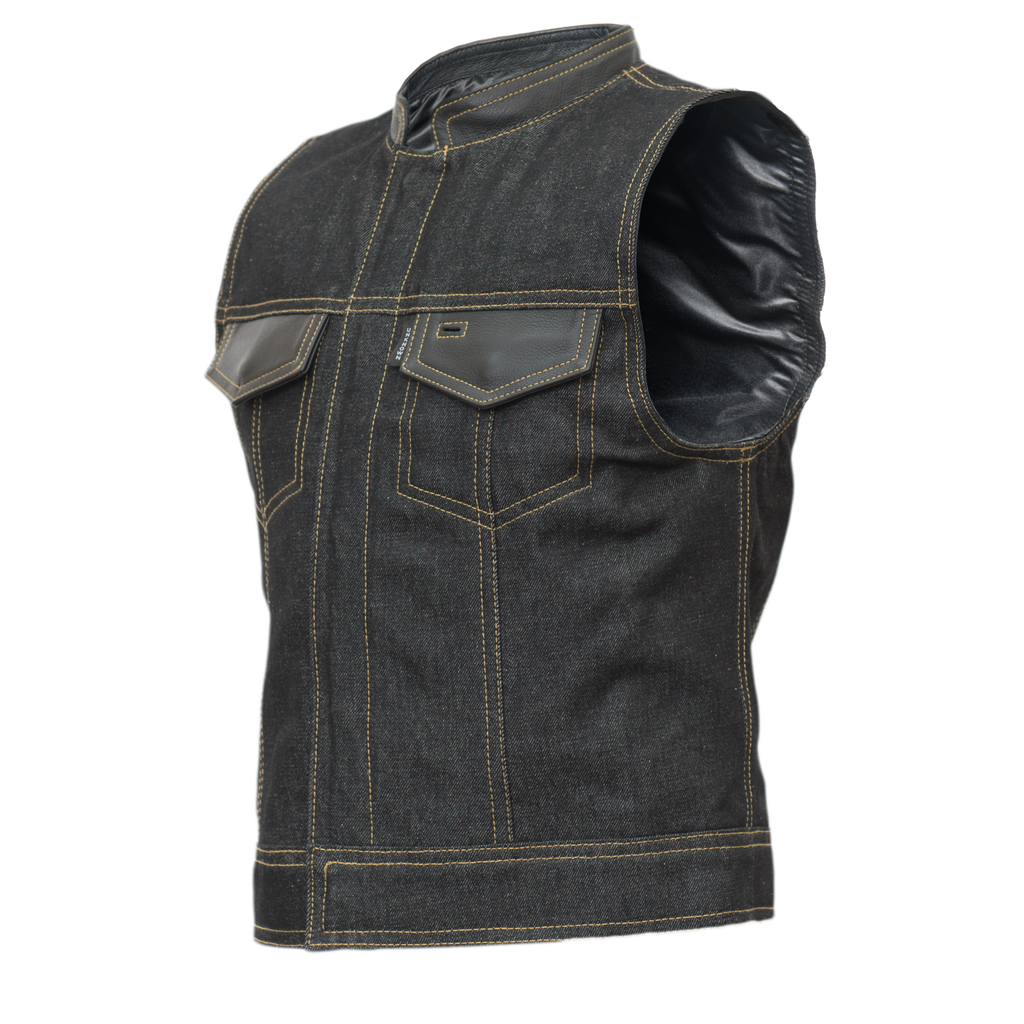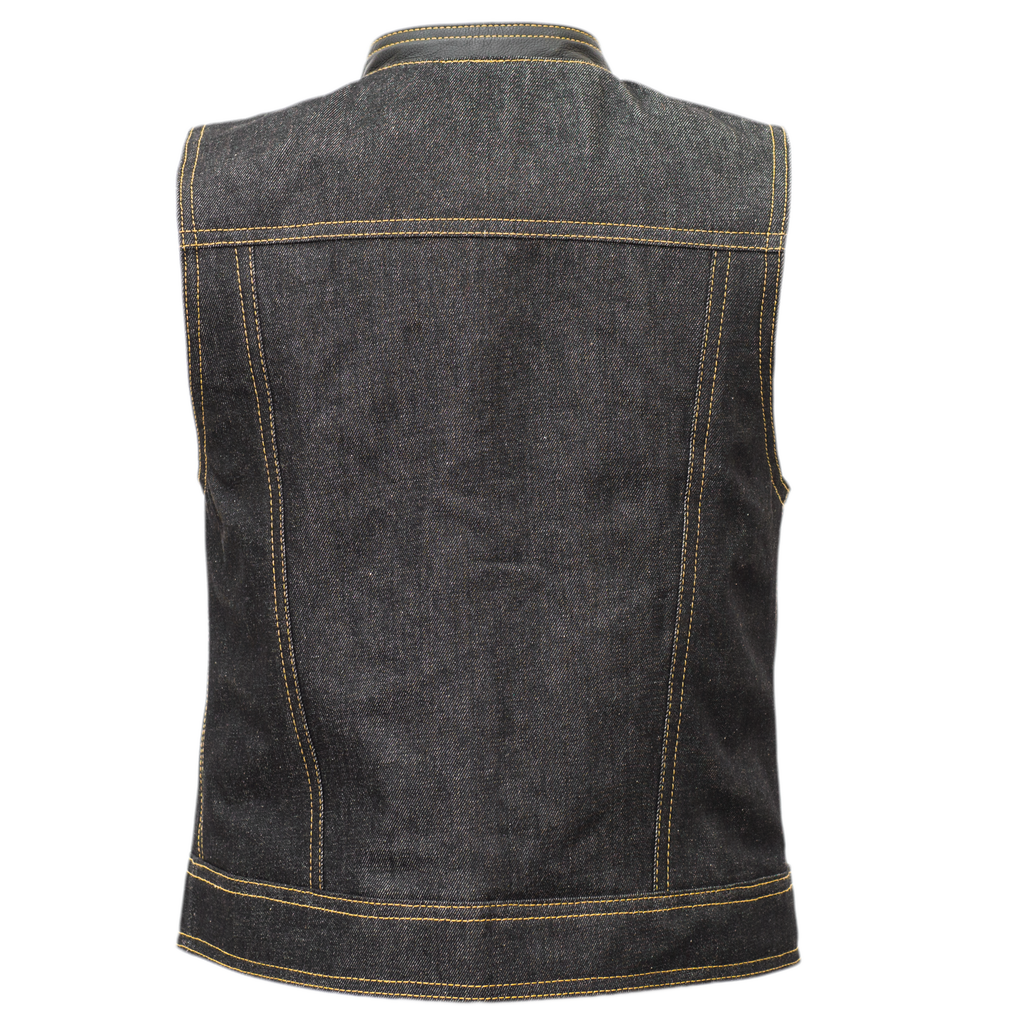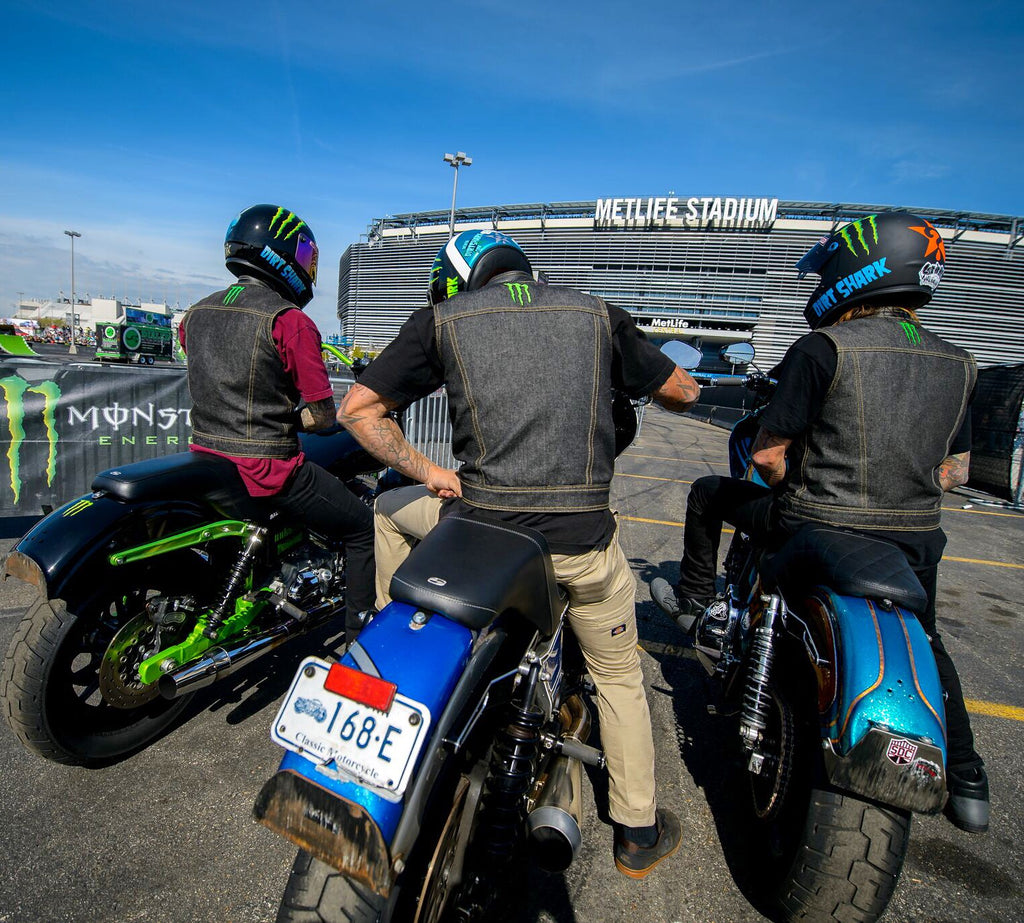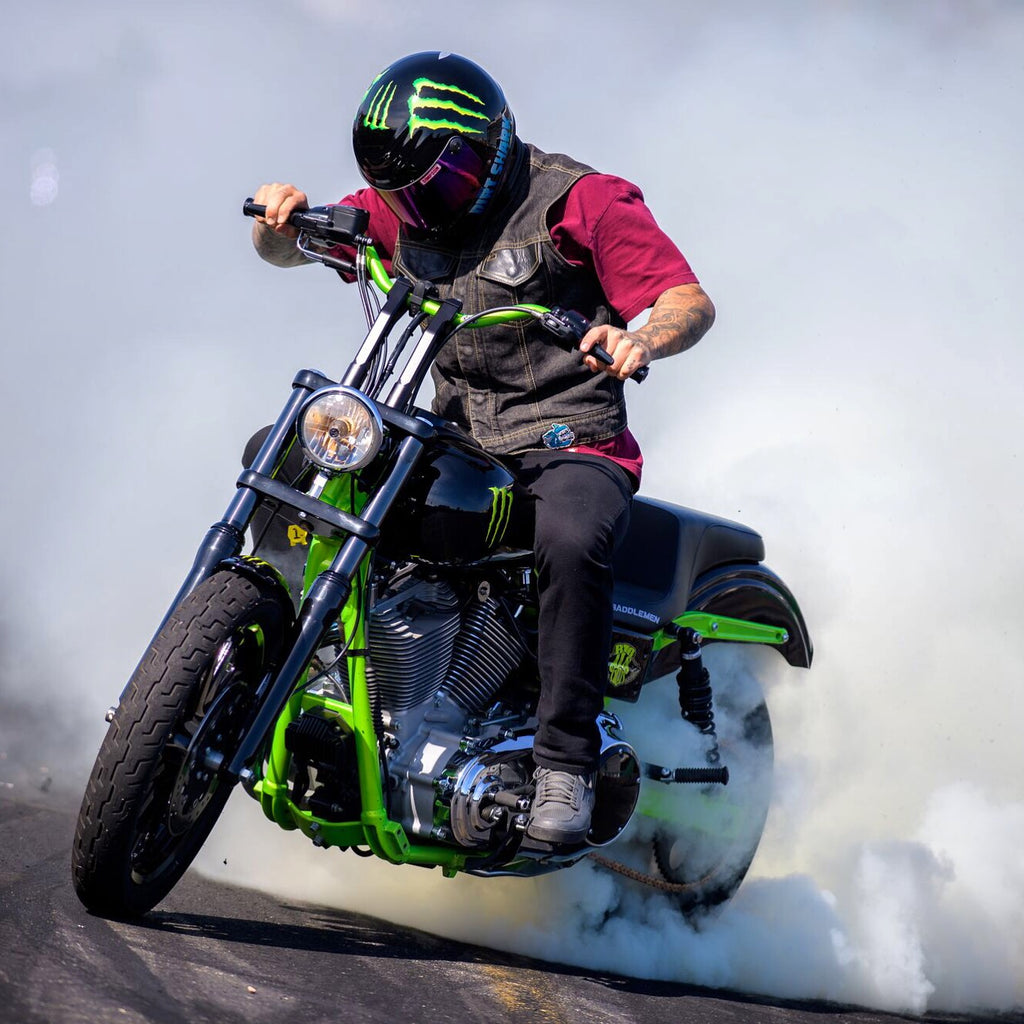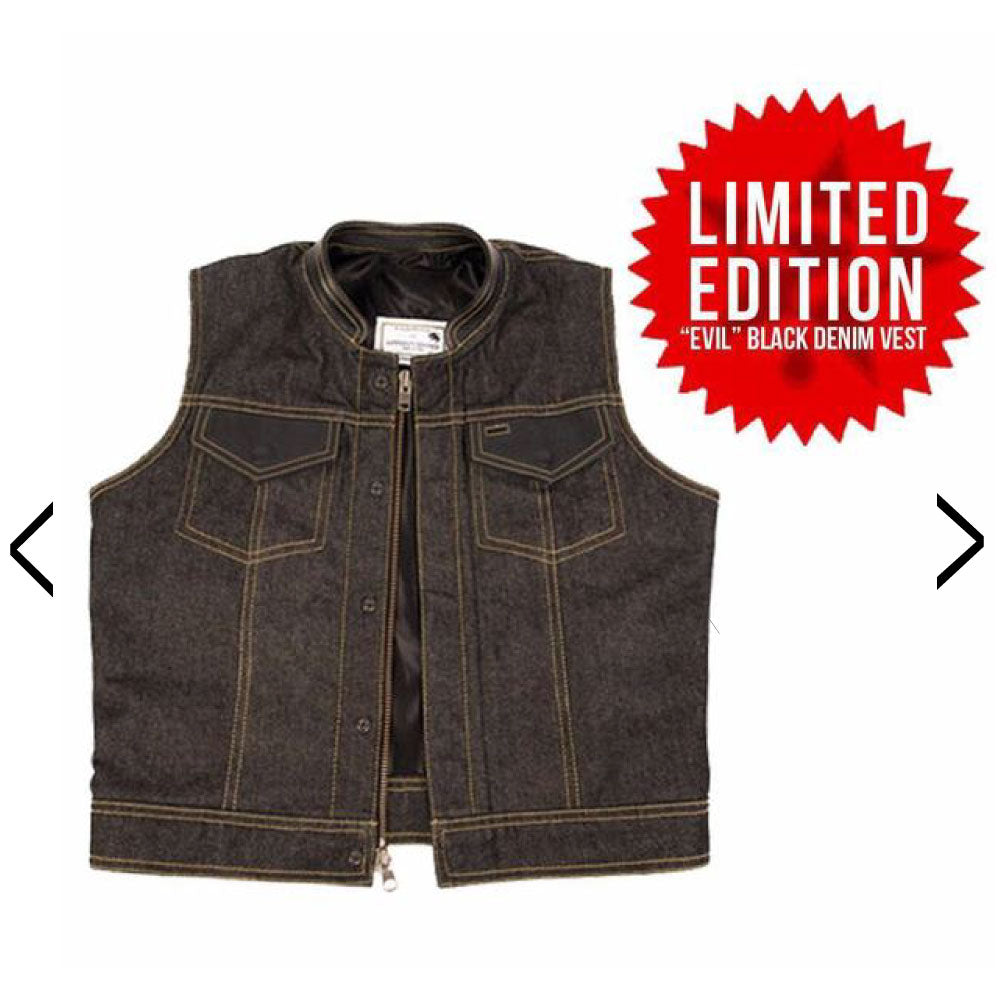 $300.00
"EVIL" Black Denim Vest
This is a custom order item and there are no returns. Exchanges are non-existent.
PLEASE READ THE SIZING NOTE AT THE BOTTOM OF THIS DESCRIPTION BEFORE PROCEEDING TO CHECKOUT.
---
UNKNOWN's custom motorcycle vest is an exclusive collaboration with the legendary Espinoza family.  Espinoza's Leather is a family run business who has specialized in hand made motorcycle jackets, vests and more for over 40 years. We wanted to offer a vest with the best quality and comfort possible but with our own unique style, we couldn't do it alone.
The UNKNOWN "EVIL" Black Denim Vest | Series Six - Limited Edition
"EVIL" Black Denim Motorcycle Vest
Handcrafted with the Finest Materials and Made in America.

Dual Zipper and Snap Closure for Comfort When Riding

Heavy 16 ounce Stonewash Black Denim with Gold Double Stitching

100% Leather Collar

2 - Exterior Chest Pockets with 100% Leather Top Flap

Sunglasses Cutout on Left Exterior Chest Pocket

1 - Interior Left Side Pistol Pocket with Snap

1 - Interior Right Side Map Pocket with Snap

Size Small through XXL  (See sizing info below)
UNKNOWN and Espinoza's together stand by their products 100%, our vest comes with a lifetime guarantee. Additionally, Espinoza's will sew on and remove all patches at no cost for life.
The UNKNOWN "EVIL" Black Denim Vest was designed with rider comfort in mind and is a SHORT CUT VEST approximately 2 inches shorter than standard vest length. However, our vests are cut true to size and trim fitting, meaning if you wear a regular fit t-shirt we recommend you order that SAME SIZE vest, UNLESS you sometimes wear a hoodie or a light jacket under your vest. If you wear an oversized t-shirt or if you are in between sizes we recommend ordering the NEXT LARGER SIZE. Ordering the right size is very important for you, as well as for us. We want your new purchase to fit well. *If your stomach is larger than your chest we recommend sizing up from the t-shirt size you normally wear.
HOW TO MEASURE
In order to determine size you may easily measure your chest… Relax your arms to sides and wrap the tape directly around back and across the fullest part of your chest…DO NOT compensate for a jacket or hoodie because we do that for you! If your stomach is larger than your chest go with your stomach size! If you are in between sizes go with the larger size for a relaxed fit, or the smaller size for a more fitted look…
SMALL 32"-35"
MEDIUM 37"- 40"
LARGE 41"- 44"
X LARGE 46"- 49"
XX LARGE 51"- 54" 
XXX 56" - 59"